Enhance your Lifestyle
When making an outdoor living space decision, you want to make sure you are receiving all the conveniences you desire in one product. A TCI Motorized Screen will provide you with a modern & sophisticated home decor, while turning your patio into a center piece of a home. In a matter of seconds, you and the family will be able to enjoy a relaxing evening doing the finer things in life from the comfort of your own home.
Features
TCI Roll Screens have the only extruded hood on the market. Our extruded hood is 66% thicker than sheet metal hoods, making it resistant to denting in shipping and handling, and impact resistant when installed.
Screen zipper system and seams are Radio Frequency Welded (RF/Heat Welded) for superior support.
The 2-piece side track enables you to hide the mounting screws for a cleaner, more attractive appearance.
Plastic entry guides provide for clean entry of zipper into side rails, assuring smooth operation for the lifetime of the assembly. PLUS, the guide allows for the bottom bar to retract almost entirely into hood.
Our heavy duty zipper system and bottom bar reduce friction, providing precision lifting and lowering capacity.
Due to the heavy duty bottom bar there is no need to re-tension our screen after installation.
Our motor tubes are engineered to limit deflection.
To eliminate sagging our screen is splined directly to the motor tube.
No visible screws in the side rails or bottom bar. provide a clean and elegant appearance.
TCI Screen features MaestroShield brand Tubular Motors and Electronics that have been tested for superior quality and strength.
All MaestroShield standard & override motors are supported by a 5 Year replacement warranty. Smart Motors are supported by a 3 Year replacement warranty. Electronics are supported by a 2 year replacement warranty..
10-year warranty on powder coating (1-year in coastal regions within 1 mile of saltwater coastline); 5-year full replacement warranty on tubular motors (3-year for Smart Series motors with internal receiver); 2-year full replacement warranty on electronics and components.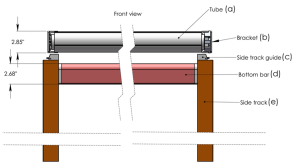 Expanded Outdoor Living Space
It's no secret all of us wish to utilize our outdoor living space more often and effectively. By choosing a motorized exterior screen, your making a lifestyle decision. Our TCI Motorized Screen will immediately increase the size of your family's living space while keeping the bugs out during the warmer months, allowing the breeze through during the cooler ones, as well as block harmful UV rays. With the click of a button you can now move your dinner outside with a breezy bug-free environment.
Fabric Choices
17 x 20 Tuff Screen, available in White or Black
Suntex 80 & 90
Available Colors: Black, Brown, Beige, Stucco, Gray, Dark Bronze
Frame Color Choices
White, Ivory, Beige & Bronze
Specifications
The maximum length and height is 16 ft. x 21 ft.
End Cap profile is 5 ½" (14 cm)
Side Rails are 2" (6.35 cm)
Mounting
Flush Mount: Installed flush to the wall.
Trapped Mount: Installed in a restricted space with no room above or on the sides
Recessed Mount: Installed with tracks or hood located in a wall, ceiling or other architectural feature
Interior or Exterior Garage Door mountings