---
Roll Shutter Systems
There are two types of Roll Shutter Systems commonly used today. They are the "End Cap" or "Modular System" and the "Bracket System". Both systems have their Pros & Cons as outlined below.
Modular System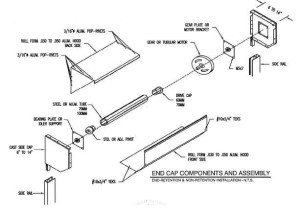 Pros
Compact design with typically smaller housing sizes compared to other systems. Housings are the same width as the finished shutter for a flush clean look.
Complete housing assemblies are fabricated at the factory in controlled conditions to exact specifications. Once at the jobsite the housing assemblies are ready for a fast trouble free installation.
Integrated easy access service panel. If your shutter ever needs service…access inside the housing to the working components is quick and easy with no affect on the appearance of the shutter.
Cast aluminum End Caps with a powder coated paint finish. Recessed edges allow the housing to be flush with the End Cap. Depressions are incorporated into the End Caps to accept all standard 100mm x 100mm mounting plates.
New HD series End Caps are the strongest and most durable ever! Features include stainless steel threaded inserts 6.85mm long embedded into the end cap during the manufacturing process. Because of these inserts, all required mounting plates can be secured without the need for any exposed fasteners. HD Side Caps are strong enough to support even the largest shutters. 10-Year manufacturer's warranty which includes the paint finish.
Housing material is roll formed powder coated aluminum with a .040" thickness which is among the thickest in the industry.
Aluminum housings are manufactured with a protective plastic film that is not removed until after installation of the Shutters, ensuring that the paint finish is in pristine condition.
Cons
Unable to accommodate some of today's larger motors.
Size and shape not easily customizable.
Paint failure. In the past, this has been known to be an issue in coastal areas. As powder coating techniques have become better, this has become less of an issue. As mentioned above the new HD series End Caps come with a 10-Year paint warranty. In coastal areas an aluminum cover is added for extra protection against the salt air.
Bracket System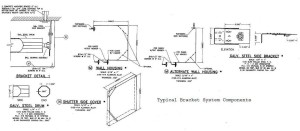 Pros
Aluminum housing is customizable to any size, shape, or configuration.
Only system that can accommodate the industry's largest motors.
A good choice when a complete recess into the soffit is desirable.
Cons
One piece housing design (no service panel) that is independent of the supporting structure. To service a shutter… the entire housing must be removed, which means cutting the caulking or sealant.
Housings are typically wider than the finished shutter width.
All components are independent of each other. Installer must make sure that all tolerances are correct for proper function and performance of the shutter.
Housings are typically .030" in thickness.
Housings are fabricated using a sheet metal brake, which can cause imperfections in the paint finish inviting corrosion to set in.
Eddy Storm Protection utilizes both the Modular and Bracket Systems. We prefer the Modular System, and use this system most often. There are times, however, that the Bracket System may be a better choice because of a particular circumstance, a need to imitate an existing installation, or to comply with a required specification. Sometimes a customer may simply prefer one system over another. Because we offer both systems, Eddy Storm Protection customers are welcome to choose for themselves.